The morning following the death of South African freedom fighter and former President Nelson Mandela, Rep. John Conyers of Michigan spoke at a breakfast meeting on December 6th sponsored by the New York City Central Labor Council and Progressive Democrats of America.  He recalled his work as a young lawyer within the U.S. civil rights movement and the Southern Christian Leadership Conference led by Rev. Dr. Martin Luther King, Jr., and hiring icon Rosa Parks who worked in his Detroit office for over 25 years.  He also spoke about the continuing fight for universal health care in America and his proposed "Improved and Expanded Medicare for All Act" (JH.R. 676), and about the need to address the nation's current unemployment crisis in the wake of the ongoing Great Recession and his proposed "Humphrey-Hawkins Full Employment and Training Act" (H.R. 1000).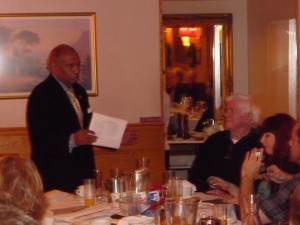 Rep. Conyers was introduced by veteran television talk show host Phil Donohue (lower right), who spoke about his own roots in the trade union movement as a young man in Youngstown, Ohio.  Additional speakers at the breakfast included: Vinny Alvarez, President of the New York City Central Labor Council; Bobby Score, Recording-Corresponding Secretary of Local One of the International Association of Technical and Stage Employees; and a spokesperson for Progressive Democrats of America. 
During the question period, Rep. Conyers also addressed concerns that trade unions have about some provisions of the Affordable Care Act that they would like to see changed, and aspects of an FY 2014 budget agreement emerging in Congress that may affect social, employment, and health care programs.