As this year's state legislative session drew to a close late last month, several bills important to consumer health advocates and our allies advanced: some to Governor Cuomo's desk for signing or veto, others to firmer footing for next year's session.  Depending on how this fall's elections turn out will determine prospects for these latter set of bills come 2017.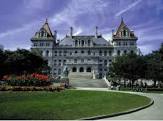 Things started off well with the overwhelming passage on June 1st, for the second year in a row, of the New York Health Act (A.5062-A, Gottfried) by the New York State Assembly, by an 86 to 53 vote.  The bill would create a fully-public universal health care program covering all New York residents.   While New York's uninsurance rate has dropped to less than 5% under the Affordable Care Act (ACA), we still need to cover those for whom the law offers no options.  This bill would draw on provisions of the ACA which allow states to move forward beyond and building upon the ACA, including implementing so-called "single-payer" systems, as embodied in this bill.  The Campaign to New York Health has been the lead coalition promoting it.
Next up was the Safe Staffing and Quality Care Act (A.8580-A, Gunther), which overwhelmingly passed the NYS Assembly on June 14 by a vote of 103 to 31. This bill sets minimum nurse staffing ratios in hospitals and nursing homes, by department. Nurse are WAY overworked and overburdened in many of these settings, and find it very challenging to provide quality, timely care to their patients. This bill helps remedy this crisis.  A similar law in effect in California for over a decade now has significantly improved patient care, the working conditions of nurses, AND saved money for hospitals and nursing homes.  The NY Campaign for Patient Safety, led by the NYS Nurses Association and the Communications Workers of America, has been the coalition promoting the bill.
In the literal final hours of the session, three bills actually moved to enactment, for signature by the governor:
Enhanced Safety Net Hospitals Act (S6948-A/Hannon, A9476-A/Gottfried) – This bill raises the Medicaid reimbursement rate to hospitals for whom their over 50% or their patients are either uninsured and/or covered by Medicaid. These are hospitals that are suffering because of federal funding cutbacks for indigent care. This bill was promoted by the Save Our Safety Net Campaign and various public sector unions, and came out of nowhere in about 3 months, highly unusual for the legislative process.
Advanced Home Health Aide Act (S.8110/LaValle, A.10707/Glick) – This bill creates a new category of nursing professional to provide certain services in home and community-based settings so that patients with complex health needs can live at home/in the community if they choose, rather than be forced only to live in skilled nursing facilities/nursing homes.  This bill was promoted by Medicaid Matters New York, the New York Independent Association for Independent Living, and various senior citizen and disability rights groups after a multi-year effort.
Expedited Utilization Review for Prescription Drugs Act (S,3419/Young, A.2834-D/Titone) – This allows physicians to request overrides of insurers' "step therapy" and "fail first" limitations on certain drugs on a case-by-case basis when needed.  The bill was promoted by New Yorkers for Accessible Health Coverage and their allies after a multi-year effort. 
Unfortunately, two other bills were "left on the table":
Comprehensive Contraceptive Coverage Act (S.6013/Bonacic, A.8135-B/Cahill) – would mandate that health insurers cover all forms of FDA-approved contraception. It passed the Assembly back in January and has been stuck in the Senate Insurance Committee since.
"Lavern's Law" (S.6596-B/DeFrancisco, A.10719-A/Weinstein) – would to change the filing deadline for medical negligence/malpractice suits from the physician's date of diagnosis of a given condition to the patient's date of notification. It passed the Assembly in 2015 and is now before the Judiciary Committees in both chambers.