This coming Thursday evening, April 26 New Yorkers will be gathering outside Harlem Hospital to call out President Trump and his congressional allies for all they are doing to attack our nation's premier health care programs: Medicare, Medicaid, the Affordable Care Act, and family planning.
Last year advocates, activists, and many other stakeholders joined forces to stop President Trump and his congressional allies from decimating Medicaid, the Affordable Care Act (ACA), and Planned Parenthood.  However, these politicians are continuing their attacks on health care this year nonetheless, just not quite so blatantly.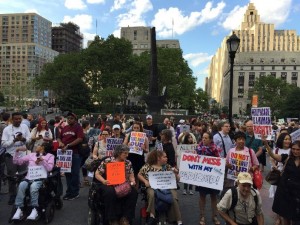 President Trump's latest budget proposals call for huge funding cuts and radical changes to Medicare, Medicaid, the ACA, Social Security Disability, and many other domestic social programs, and the leaders in the House of Representatives is expected to put forward similar proposals soon.
In addition, starting the very day of his inauguration, President Trump has since taken many steps to deliberately undermine and violate the letter and spirit of our nation's health care laws, most notably the Affordable Care Act (ACA) and Medicaid. As president, Trump and his allies in Congress have worked to:
·       Destabilize health insurance markets, causing premiums to go up and insurers to leave.
·       Weaken vital consumer protections for people with pre-existing medical conditions.
·       Dumb-down the quality of health insurance people can get.
·       Create barriers for uninsured people to learn about and get help enrolling in health insurance.
·       Institute new requirements for poor people to enroll in and stay on Medicaid, like forcing them to work for their health insurance, take drug tests, or pay premiums.
·       Deny family planning and sexual health services to low-income and uninsured women.
Many of these moves are being challenged in the courts by various states' Attorneys General and public interest law firms, who accuse Trump of violating provisions of the ACA and Medicaid law.
As people begin to lose their insurance because of Trump administration actions, more and more New Yorkers will turn to places like Harlem Hospital for care, because our city's public hospitals proudly treat everyone regardless of their ability to pay or whether or not they have insurance.
We invite all to join us for a rally from 5 to 6 p.m. on Thursday, April outside Harlem Hospital at Lenox Avenue and 136 Street – just take the 2 or 3 train to 135th Street, and you're right there.  Bring a sign, organizational banners, and your passion! 
We all know that health care is a fundamental human right, and that only government programs and policies assure that right.  By joining us on Thursday, you'll be showing your support for this stance.
Sponsors [list in formation]: African Communities Together; Campaign for NY Health; Citizen Action of NYC; Commission on the Public's Health System in NYC; Communications Workers of America, Local 1180; District Council 37 AFSCME; Get Organized Brooklyn Safety Net Defenders; Health Care for America Now-NYC; Metro NY Health Care for All; NYS Nurses Association; Physicians for a National Health Program-NYMetro; Rise and Resist, UWS MoveOn-Indivisible Action Group