After more than a decade of effort, as part of the final deal for the 2016-17 state budget, New York will soon have a new Paid Family Leave (PFL) program, and it will be the most ambitious and comprehensive one in the country. Gov. Andrew Cuomo and the State Assembly made it one of their top priorities during the budget negotiations, and participants in the New York Paid Family Leave Campaign pushed it through the State Senate. Key campaign leaders included AARP, A Better Balance, Citizen Action of NY, Community Service Society of NY, NY Civil Liberties Union, NY State AFL-CIO, NY Statewide Senior Action Council, Working Families Organization, 1199 SEIU and 32BJ SEIU.  We were proud to have been a rank-and-file member of the campaign.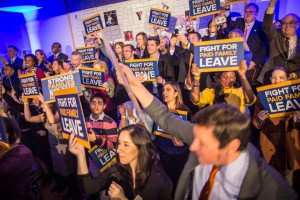 The U.S. is only one of two nations globally that does not guarantee some sort of PFL program for workers to care for a new borne or an ill family member. The national Family and Medical Leave Act (FMLA), enacted in the 1990s, has provided up to 12 weeks unpaid leave while protecting one's job, but more than 40% of workers are not eligible, and many other low-income workers could not afford to take unpaid leave.
With this new law, New York now joins 3 other states that have paid family leave programs: California, New Jersey, and Rhode Island.  Since the 1950s, New York's Temporary Disability Insurance ITDI) program has guaranteed up to 7 weeks for the birth of a child, but it currently only provides a meager $170/week in replacement income, an amount not raised since the early 1990s. (Most other states provide a much larger benefit, up to a maximum of more than $750/wk.) On the positive side, a good number of New York employers have voluntary provided some amount of paid family leave on their own, but 6.4 million New York workers have had no such option available.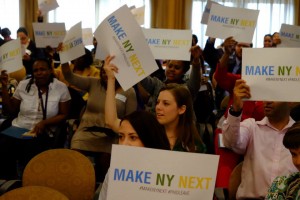 As the campaign heated up this year, many employers, especially small ones, resisted creation of a PFL program. They were worried about having to pay a new tax, the impact on profitability, being put at a competitive disadvantage vis-à-vis companies in other states, abuse of the program by employees, and new administrative burdens. Looking at other states' experiences, the realities are that PFL programs can be funded solely by employee contributions (thereby costing employers nothing, and creating no market disadvantage), and employers have reported positive or neutral impacts on employee morale, loyalty, productivity, and performance. Further, most workers have typically taken less than the full amount of PFL time allowed, nor have there any new onerous compliance requirements.
The campaign to enact the law in NY rested on 4 core strategies: sharing workers' personal stories of why they wanted and needed PFL (and what happened when they didn't have it), making a "public health" case for PFL (citing research showing the health and child development results), engaging supportive small employers and giving them visible roles, and address the myths and fears of initial opponents.
The state's new PFL program will be operated through the state's existing TDI system, and will be a social insurance program whereby funds are pooled and paid out to individual families based on need. It will start in 2017 and fully phase-in over a 4-year period. All contributions will be made by employees, estimated to phase up to $1.40/wk. Self-employed people and public sector unions can opt into it. The state's Disability Benefits Bureau of the Workers' Compensation Board will enforce the law.
The program's "four pillars" are: up to 12 weeks paid leave, job protection while out on leave, inclusion of all employers (regardless of size), and a maximum benefit level of up to two-thirds of a worker's weekly wage up to a cap of two-thirds of the statewide average weekly wage. Birth mothers can receive separate time off from childbirth, and each parent can take up to 12 weeks, either simultaneously or sequentially. Leave can be taken for childbirth, adoption, or foster care placement, caring for a seriously ill family member (child, parent/parent-in-law, spouse/domestic partner, grandparent, grandchild), or certain needs arising from a family member's military service. Full-time workers can access the benefits after 26 weeks (6 months) of employment, and part-time workers after 175 days. The leave will run concurrently to any leave eligibility under the existing federal FMLA system. Workers with employer-sponsored health insurance will continue such coverage during their leave.
Nationally, New York Senator Kirsten Gillibrand and Rep. Rosa DeLauro (CT) have introduced the FAMILY Act in Congress (S.786, H.R.1439), which would create a federal PFL program under the Social Security Act. As PFL programs develop in other states, pressure will be created for Congress to act. Once again, New York and other states are proving to be the laboratories of democracy!